Who is super excited for Easter? Not just for the chocolates but for all the crafts and baking you can do at home. Colouring and decorating eggs is a festive staple but there are many other activities you can do at home that truly capture the spirit of spring. 
Easter is the perfect time to get the children creative, which is why we've rounded up our top 10 Easter craft and baking ideas. They work for a whole range of ages, whether you're looking for super simple nest cakes or something more intricate for older children. All these ideas will certainly add brightness to your home. 
Salt Dough Flower Eggs
Who loves a hanging decoration? We do! These super-simple salt dough eggs are the perfect craft for all ages!
What you need:
Water (236 ml)

1 cup salt (125g)

1 cup Plain Flour (125g)

Vegetable Oil

Oval Cookie Cutter

Ribbon
Follow this step-by-step:
Heat water until it's warm, then add 1/2 cup salt (64g approx) and 1/2 cup (118ml approx) warm water to a large bowl. Mix until the salt is fully mixed in.

If you would like to colour your dough, add a few drops of food colouring and stir until well combined.

Add 1 cup plain flour and mix until you have a crumbly dough, making sure to break up large clumps with a spoon or your fingers.

Add 2 Tbsp vegetable oil and mix with your hands until fully mixed. Form the dough into a ball and cover it tightly with plastic wrap. Set it aside for about 10 minutes.

Lightly sprinkle your work area and rolling pin with flour. Roll out the dough until it is about a quarter-inch thick. Cut out egg shapes with an oval cookie cutter and make a small hole for hanging with a straw or skewer. You can add herbs for scents or press flowers. 

Bake in a low oven (100C) for about 2 hours or let air dry overnight. Once dry, paint the dough with whatever design you like. We love bright colours so we'd paint ours blue, pink and yellow! Next, add some string or ribbon to hang your beautiful designs. 
We can't wait to see your creations!
Neon Polka Dot Sticker Easter Eggs
Who loves an easy Easter craft? This one is super simple, all you need is some craft eggs, neon stickers and some imagination! 
What you need:
Dyeable craft eggs or hard-boiled eggs

Colour coding stickers
How to Make Neon Sticker Eggs
Peel off the sticker and stick it on the egg. That's it! Make whatever pattern with whatever colour combo you want.
Spring Chicks Egg Carton
When you think of Easter, cute little chicks spring to mind. For this simple craft, you need minimal supplies. 
What you need:
Egg cartons

Acrylic paint & brush

Glue, scissors, marker

Paper
Cut apart two egg holders from the carton and trim off the excess on the edges.

Glue the two pieces together.

Paint and allow to dry.

Add a beak and some eyes.
And that's it! Happy crafting!
DIY Paper Flowers
Spring flowers can brighten any room, they are even better when homemade. You can use different coloured cupcake cases, any design will look amazing!
What you need:
Cupcake cases

OR

Coffee filters

Ice cream stick

Paper

Scissors

Glitter

Pens

Tape
Step-by-Step:
Start by flattening your cupcake case, they don't need to be completely flat, it's just to help you fold. 

Fold the cupcake case in half, then repeat again, again and again. You'll be folding in half four times, so you end up with eight petals.

Next, cut a curve into the cupcake case, to give it a petal effect. 

Unfold the cupcake case and decorate.

Next, cut leaves out of paper. 

Grab your ice cream stick and attach it to the cupcake case and add the leaves. 

Repeat with other colours and decorations. 
These simple decorations can make the perfect Easter gift for a loved one. Please share with us your results.
Easter Egg Balloons
Ever realise balloons look just like Easter eggs upside down? Simply add a splash of paint and ribbon and you got yourself an Easter "egg" bouquet.
What you need:
Step-By-Step:
Blow up your balloons and paint your designs!
Easter Nests
This recipe is a great option for little hands, it requires minimal ingredients with simple easy steps to follow. 
Ingredients
200g milk chocolate, broken into pieces

85g shredded wheat, crushed

2 x 100g bags mini chocolate eggs

cupcake cases
Step-by-Step:
Melt the chocolate in a small bowl placed over a pan of simmering water. Pour the chocolate over the shredded wheat and stir well to fully cover.

Spoon the chocolate wheat into cupcake cases and press with the back of a teaspoon in the centre to create a nest shape. Place mini chocolate eggs on top of each nest. 

Chill the nests in the fridge for 2 hrs until set.
Easter Rocky Road
Leftover chocolate? This recipe is fantastic for using up things in the cupboards. 
What you need:
225g dark chocolate, broken into pieces

100g unsalted butter, cubed

2 tbsp cocoa powder

2 tbsp golden syrup

100g rich tea biscuits

50g mini marshmallows

50g dried cranberries

200g chocolate mini eggs
Step-by-Step:
Line a traybake tin with 2 sheets of cling film. 

Put the chocolate and butter in a large bowl set over a saucepan of simmering water, and melt until smooth and glossy. Be careful not to overheat the chocolate as it'll burn and go bitter. 

Remove from the heat and add the cocoa powder and golden syrup. Mix together and leave to cool for about 10 minutes.

Put the biscuits in a sandwich bag and bash them, remember to leave a few bigger pieces for texture. 

Stir into the cooled chocolate with marshmallows, cranberries and 150g of the mini eggs. You can add any other toppings too!

Pour the mix into the tin and press down until even. 

Scatter over the remaining toppings and leave to set in the fridge for 1 – 2 hours.

Remove from the tin and cut into bars to serve. 
Bunny Template
We've created a bunny template for you to colour in and design!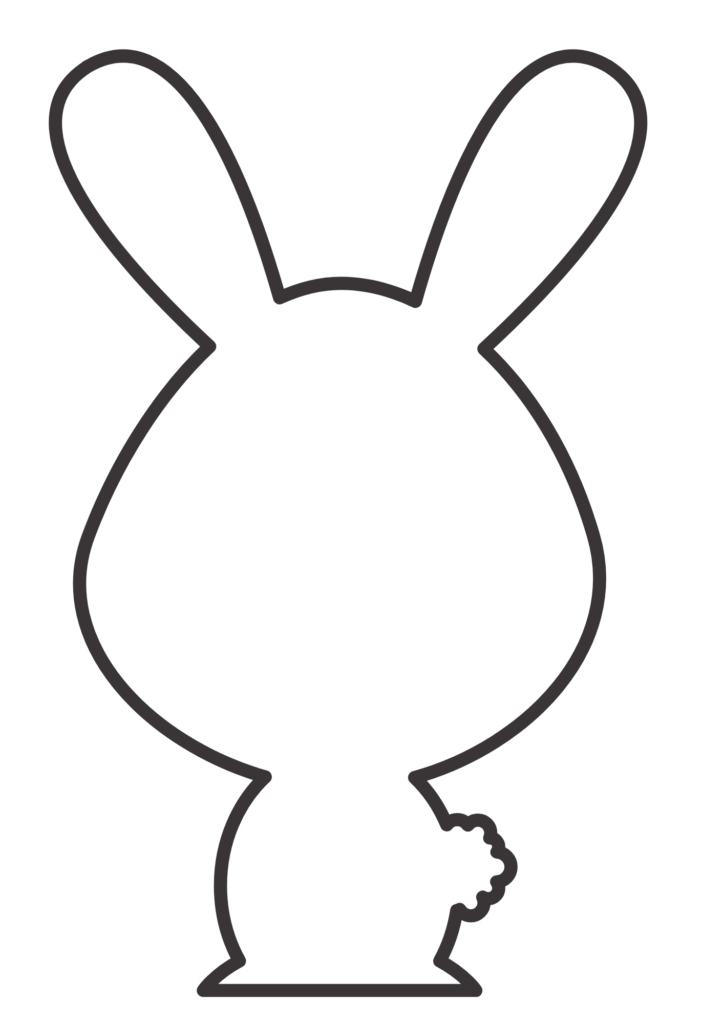 Toilet Roll Bunny Craft
Save those paper rolls from going in the bin and start collecting for this fun craft activity!
 What you need:
Paper rolls

White paint

Googly eyes

Pipe cleaners

Small pom poms

White cards

Coloured card

Extra strong glue

Black felt tip
Step-by-Step:
Start by painting the rolls white, you may need to do a few coats to get full coverage. Set aside to leave to dry. 

Next, make the bunny ears. Draw the shape on a white piece of card and cut. Next, cut a small version from the coloured card. 

Stick the coloured ear insert onto the white card using the glue. 

Then, grab the pipe cleaners and twist them to create whiskers. 

Finally, stick on some googly eyes, add the whiskers and stick on the ears. 

Add a pom pom nose and draw on a mouth for the final touch. 
Did you enjoy this craft? Let us know in the comments.
Pasta Easter Eggs
Go look in your cupboard, bet you've got some pasta in there. Why not give this craft a go?
 What you need:
Different shapes of pasta (penne, macaroni, fusilli)

Cardboard

Paint

Glue
Step-by-Step:
In the first step, you need to paint your pasta. There are a few ways you can do this, you can individually paint each piece, or squirt some paint into a sandwich bag and add the pasta and give it a good shake. Leave aside to dry.

Grab your cardboard, you can use a cereal box if you don't have any. Cut out an oval egg shape. 

Paint your eggs.

Next, start glueing your pasta to the eggs, we recommend using strong glue. If you need a hand, ask an adult for assistance.
Happy crafting!
We hope you enjoyed our top 10 Easter crafts! Please share your results on social media.